Rugby and beer – the perfect union
Audio Description
Login here to listen to the audio description
This week at the Great British Beer Festival our Senior Communications Manager Katie Wiles had the opportunity to sit down with two ex-rugby players Tom May and Greg Bateman to hear all about the unique relationship between rugby and beer. Tune into this exclusive interview below or you can listen in on the CAMRA podcast at https://shows.acast.com/pubspintspeople 
Katie Wiles: Thank you everyone for joining us today. Here at CAMRA, we all know that beer is the perfect accompaniment for… pretty much everything. But now we have the data to prove it – at least when it comes to the fantastic sport of rugby. A recent YouGov poll has shown that 42% of rugby fans would choose beer when watching a game – far ahead of cider (14%), wine (8%), spirits (6%), soft drinks (17%) and water (6%) and other (6%). I don't think this comes as a massive surprise to anyone, but it really shows that as an industry we need to make sure we're exploring all opportunities to bring great beer to rugby fans. 
CAMRA has partnered with MSG Tours to offer attendees at this year's festival an exclusive opportunity to bag themselves a sports travel package worth £3,000 which can be used to visit the Rugby World Cup 2023 in France. You may have seen these codes around the festival and on the banners on your way in – you simply need to fill in the form at gbbf.org.uk/luckydraw/ with one of the codes (TomMayVIP) for your chance to win! Hurry – the competition closes at midnight on Sunday 7 August! 
We're also incredibly excited to be joined by two fantastic guests this afternoon – Tom May and Greg Bateman. Tom May (pictured right) is a former rugby union player with a nineteen-year long career including two caps for England. Having spent nearly two decades playing professional rugby, he's now venturing into working alongside several businesses within the sporting, business and media industries. Tom is also a Brand Ambassador for Genius Brewing, championing light craft beers to beer lovers looking for a low-calorie, healthier option. 
Greg Bateman (pictured left) is a recently retired rugby union player, from Dragons, Leicester Tigers, Exeter Chiefs and London Welsh. While at Tigers he founded People's Captain, a brand that aims to use the social nature of craft beer to bring people together. He's since dedicated himself to brewing positivity and creating a positive social impact for the UKs mental health. 
Greg has shared the important role that beer and pub-going has played in his own battles with mental health. He founded People's Captain in recognition of how rugby can be a very macho environment in which it is hard to express how you feel yet going to the pub and having a drink with a friend helps break down those barriers. He has since dedicated himself to brewing positivity and breaking the stigma around mental health.  
I think it would be great to start off today's conversation looking at this a bit more. Greg, could you tell us in your own words about People's Captain and your motivation to brew positivity?  
Greg Bateman: Thank you very much. Peoples Captain started in probably my worst times. I had a point with my best mate, who probably saved my life, because I actually started talking to somebody, being honest with them about how I felt, problems concerning self. I think really what happened was I realised that the pub was probably one of those safe spaces that's in a society which we just don't take advantage of. I just had this vision that we had so many amazing pubs at the hearts of their local communities, but they're untapped talent at the moment. Pub operators want to do more for their communities, and they want to be a safe place for people, and they are unsure of how to do it. So that's kind of where we bridge that gap, we are a brand who stands up for the power of being together and what can happen in conversation, but also providing some great beers at the same time. 
Katie: Thank you. It would be great to hear about this from you as well Tom. Do you agree with Greg on the role that beer can play in terms of helping to break down barriers of mental health stigma? 
Tom May: Yeah totally. I think there is obviously a massive link between beer and sport. I think Greg and myself would both put our hands up and say that people who play sport, especially men, need to be better at talking about the issues they face. I think it's great to highlight that there are times when you need to have a conversation with someone, and it's made a lot easier over a beer. Somehow that beer makes it way less awkward. You know I've had similar conversations, slightly different to Greg, but within my family I've had to sit down with someone, it's always been done over a beer. Interesting little stat in and around the YouGov forum, not sure what the other 58% are drinking! I think there is obviously a clear link, whether you are drinking a beer at a sporting event or whether you are having a beer in a pub with your mates. It makes people open up and it makes people far less conscious about opening up, and that's clearly a good thing. 
Katie Wiles: It's clear that you're both very involved in the beer trade, and you have a lot of passion for the product. Could you just tell us a bit more about the work that you are doing, starting off with you Greg, heading up People's Captain? 
Greg Bateman: Yeah sure, we got a range of beers. We've got award winning lagers, we've got award winning traditional French saison, New England pale ale, and American pale ales, along with some crazy milk stouts. Obviously I'm completely biased, but our product is fantastic and we've won awards but that's never been the most important thing - it's always about what we stand for and our purpose, and that's really where we probably made a bit of a cut through with people is that we are more than just beers, we are more than just products. Frankly in a place like we are today, you're not going to be short for finding a few good beers, but it's just about what they stand for. 
Katie Wiles: Tom, can you tell us a bit about your work as a brand ambassador? 
Tom May: Yeah, I guess I was pretty strict on myself during my career. I've been, not exactly proud to say it, but when I did have a drink I guess it was binge drinking, and that's changed over time since I retired. And, being associated now with Genius Brewing, I really support what they stand for as they contribute towards motor neuron disease and they're very closely linked to that charity. And then actually one of the things I've not been able to let go of since retiring is training and staying fit and healthy, and always in the back of my mind when having a beer is like, you know I want to train tomorrow so I don't want to feel rough or whatever, and actually with it being a low calorie beer, low alcohol beer, I think I'm much more likely to open a bottle or can in the summer and have a couple beers in the back garden then I would be any other while. I think there is a big shift for those who are focused on healthy living, or have a little passion for healthy living and training, to still have a beer that they can go to, or a range of beers they can go to. They aren't just 0 percent. I want to have something I can taste the alcohol and know like I'm drinking something with alcohol, but it doesn't have to be blowing my head off at the same time and I like that balance of what Genius brings. 
Katie Wiles: Do you think a healthy or low-calorie beer option is really important for people who are interested in sports or play sports? 
Tom May: Yeah, I think so, and as I was just chatting to one gentleman here just a minute ago, we need to have more of these options on draft. I think having more opportunity to open up with us like that, whether it be Genius or any other product. I'm not a fan of those 0 percentages. If I had a choice, I'd still go for one with alcohol in it. So I've thought, I got that middle ground now where I'm now a bit more comfortable and happy it's there to have those, that's not to say I won't have a proper beer but I think it just gives you that balance and I think it's creating more opportunity and options which I think is important for the consumer. 
Katie Wiles: Thank you, and Greg you talk about how rugby can be a really macho environment, and it's obviously a sport that is loved by a lot of people. Do you think that beer is a good way for players to bond off the field? 
Greg Bateman: Sure, I think it really interesting isn't it because, if you think as players often it's like there is that big move towards real professionalism in the last like 5 to 8 years and it was like no beers after the game anymore, just orange juice and in the ice baths, but actually, from an emotional point of view there is so much up and down in a season it is important to let you hair down a little bit. I guess really the YouGov poll is telling us more about the fans, there's ninety thousand fans, there's only about fifty players on the bench. What the players drink is irrelevant really, you know seventy eight thousand is probably more of interest. But I think the best thing about rugby that everybody says uniformly, tell me if I'm wrong, is that you can go into a rugby game, stand next to a fan from the other team and have a beer together. You don't get that in other sports, you get that in rugby and that's what we're hearing about a lot from that game earlier in the week. Loved the behaviour on the pitch, no trouble in the stand. Don't hear about it and that's what is really special about rugby. The fact you can have a pint and watch thirty blokes it is a really cool thing to go and do. 
Tom May: Well unfortunately when I was playing we still had a beer at the end of the game. I think there has naturally been a shift towards professionalism. I 100 percent agree with Greg, there is a time and a place for players, no matter what year that I played in, to have a beer and it comes back to what we talked about initially, but then I also think, I now go to Turkey with my family or friends as a fan, and to be sat right next to a bloke or women or child I don't know, it just brings you closer together. It's a nice break, you're having a little conversation with someone you've never met before. Now we all know having got here today, you go on the tube, it's not like that. People think you're weird if you even talk to them. So, the fact that you got a beer in your hand, it actually just breaks down barriers and it just creates a decent atmosphere for everyone to exist in. I think the having a link between sport and beer is a positive outcome. 
Katie Wiles: Tom you're here with MSG, who are launching a competition to help someone at the festival get the chance to go to the grounds and watch rugby in person. Can you tell us a little about the competition? 
Tom May: Yeah, I mean, unbelievable - I entered it! It's a chance to win £3,000 worth of travel vouchers to go to next year's World Cup which is just over the channel in France. Some unbelievable teams will be heading to France at the end of next year. £3,000 worth of travel vouchers, can't go amiss, but I think what MSG do differently to any other company I come across is they offer real value to their customer, they're not just hiking prices up making sure they make the most margin. Yes, it's a commercial business, but they also want to offer value back to the tours. Rugby is brilliant for having a beer with your mates, but it's also about traveling around the world and experiencing different cultures, different examples about what the game can bring. I know for a fact, Mark, who set the business up, he knows everywhere inside out and puts together some incredible packages so whoever wins that package, send me a message cause I'll bunk in with them! 
Katie Wiles: Can you tell us a bit about places that you have travelled to as part of your rugby tours? 
Tom May: I think Greg's probably got a couple more recent ones, but we've both been in lucky situations where we've had a job that allowed us to travel the world. It's also taken us to some pretty, pretty nasty places. But to come away from a career and say I've been to Australia, New Zealand, South Africa, Japan is incredible, and I don't think that's lost on either of us. When I look back now, some of the experiences I've gained playing rugby I want my kids to experience. I think it's a brilliant sport for doing that, maybe not to go around the world but I'm sure Greg's got some more recent examples. 
Greg Bateman: I think it's pretty much the same really, what other job do you get the opportunity to go and be somewhere for like a weekend. I was in South Africa earlier in the year and finish the Dragons contracts, although I probably wouldn't choose to go to some of those places in South Africa again, but though certainly some parts that were just amazing. 
Katie Wiles: Amazing, and obviously we are in the VIP area, so could you maybe talk through the importance of beer in a corporate hospitality setting? 
Greg Bateman: Thinking about the best angle to say this on. Sometimes there's people that you're talking to that you don't want to talk to, so you need a beer, to get you through it. I think certainly for people from corporate hospitality point of view at rugby games, they go for an experience. It's the same with the trade at the moment, people want to spend more money on less things, they want experience those really good pints now. They don't want just the big four lagers anymore, they want a really great beer, they want to have something totally different. They're going to drink less of it, they're not going to have as many of them, they're willing to pay a premium to have a better product at the end of it. I suppose if you think about it in a corporate hospitality point of view it's that experience in the long run. 
Tom May: We're going to go some pretty cool places next year, being in Marseille, Nice, Monaco, and obviously there's going to be beers. I think it's a great way engaging with people you don't know, meeting new people, making new connections over a beer. It does come back to the experience and you get an experience from the whole package, it's not just the entertainment that's on the show. It's not just the field, it's whole the package together and that includes having a beer. 
Katie Wiles: And last question, what is both of your favourite beers? 
Greg Bateman: Well, you get asked that all the time don't you, of course I'm going to say one of my beers. Pete Brown is just in the other room, and I asked him the same question and he's probably drunk a thousand more beers than I have, and he always says it depends where I am, what I live, and what I am doing, and I think that's so true. On a day like today I'm probably not going to be going for a stout, but it just depends what you're into, and what you like.  
Tom May: I think from my perspective, I've only really started looking into this industry recently, and for me I've always gone into a pub and had what's a safe option, in my view. So, if I was going to a pub I would be pouring something which is probably going to make your ears bleed. Now I go buy a bottle of Rosé for the misses and I look in the fridge and I'm like wow, there is different labels and different craft lagers and it is mind blowing. So somehow, I'm going to have to try work my way through and I think again it comes back to choice. Somewhere in there there's something for everyone which I think is really important. 
Katie Wiles: Absolutely and speaking of which we should head off and get some beers for you guys. Make sure to enter the competition on the floor below and thank you both so much for your time!  
---
Whats' Brewing Archive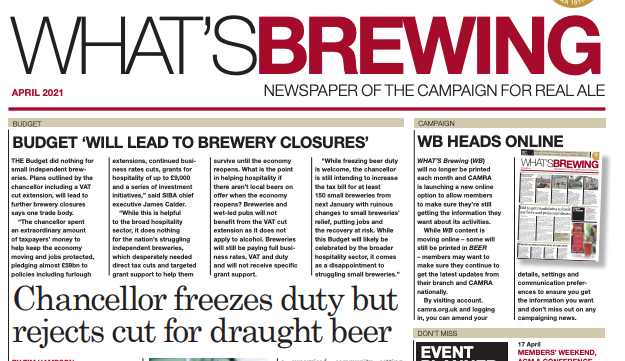 view archive
What's On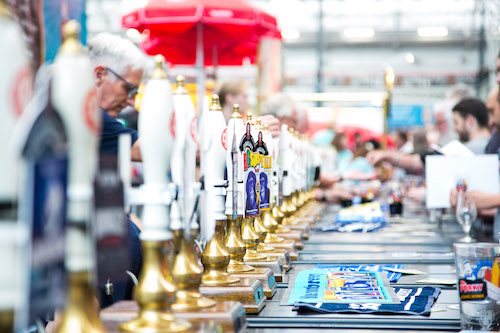 view events