What can we learn from Czech pubs?
Audio Description
Login here to listen to the audio description
I had a few hours to kill in Prague recently before my flight back to the UK. What to do? A museum perhaps?
As if.
No, I went to the pub. Three, in fact, all very different, and I found myself wondering what it was they had in common — and whether there were any lessons for British pubs to be found in Czech beer culture.
The first I visited was Lokál: it's a pretty obvious stop for anyone after the Czech beer experience. Expect pints of Pilsner Urquell served up alongside beef broth and goulash. People of all types were enjoying a civilised beer together.
The second was Hostomická Nalévárna, a tiny neighbourhood taproom on a residential street. Four tables. Three other customers. Two TVs showing Wimbledon with the sound turned down. One brewery on the taps. Delicious beer served with minimal fuss. I could have stayed all day.
The third was PULT, the Czech pub's take on craft beer. A mini Mother Kelly's with fewer taps, almost all pouring lager. There was none of the usual table service, instead customers ordered at the huge bar for which the place is named – pult means counter in Czech. My pint of Budvar was poured to eye-popping perfection.
Respect for the bartender
What stood out to me in all three was the role of the bartender. The Czechs call them šenkýř or výčepní, which you could translate to mean tapster. This is no mere stop-gap job for bored students but a respected position that pays accordingly. For some it's a life-long career. They have a saying that illustrates how central this role is in Czech beer culture: the brewer brews the beer, the bartender makes it.
Granted we have this too in some British pubs, especially those that pride themselves on running a good cellar and serving cask ale in top condition. Like the Czech tapster pouring a traditional hladinka, serving cask is a highly skilled job worth taking pride in when it's done right. Sadly, it is becoming increasingly rare. Bartending in Britain seldom garners much respect or much money.
Magda Hoppová has worked as a výčepní for four years, the last two of which she has spent at PULT. When she steps behind the bar she is in her element. She dunks, she rinses, she serves. "I love the pouring and how the beer looks when it is perfectly poured," she says. She is fast and efficient at the taps, which means she can take time to connect with each customer in turn. "I like to talk with them about beer and life."
The relationship between a výčepní and their regulars is very important. "Being štamgast in Czech is a nice sport," says Magda. "[The] výčepní knows what you drink, knows what your job is, other things about you, and from time to time you go for a beer together." For some regulars there's even the ultimate accolade: a special glass reserved for their beer. "If you take care of them, they like to come back to you very often," says Magda.
Respect for the serve
In a country that drinks more beer than any other, people understand the importance of a perfect pour. How many times have you been served a lacklustre pint in a grubby glass? How often have you shrugged and drunk it anyway because it's not worth making a fuss? I can't claim this never happens in Czechia, but I was only there for three days and twice I saw beers sent back — pints that looked perfectly fine to me but evidently fell short of the expected standard. They were poured again without demur.
The best Czech výčepní go to a lot of trouble to get it right. "I know it looks weird to see a Czech poured beer with quite a big amount of foam, but that is what is so important for beer," says Magda. "Foam is also beer, it protects the beer before oxidation, and it also tastes good."
To achieve the perfect foam, you need the Czech side-pull tap (a technical marvel in itself) but that alone is not enough. "The care about the beer glass is very important and different in our pubs," says Magda. "Properly cleaned, wet and cold glass will help the beer stay in a very good condition for a longer time." Some tapsters will even chill their glasses to match their temperature to that of the beer. Can you imagine such care taken over a pint of best bitter?
It is this level of care taken to serve the best beer possible that British pubs would do well to remember. And in return, if we're to enjoy such service, those who work behind the bar deserve the same level of respect their Czech counterparts enjoy — from customers but also in their wage packet.
Anthony Gladman is the current Guild of Food Writers drinks writer of the year. His book Gin A Tasting Course will be published in September.
---
Whats' Brewing Archive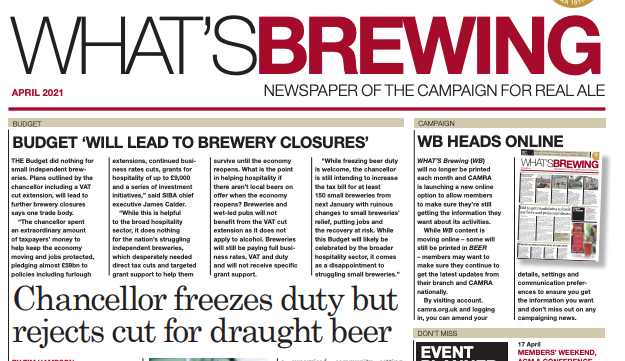 view archive
What's On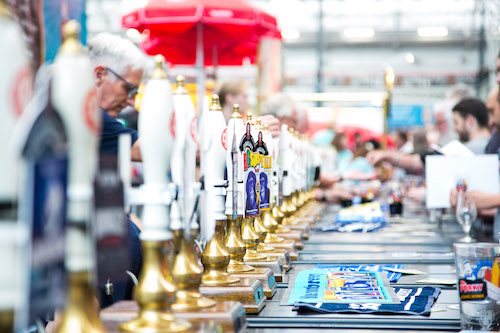 view events